The Raedwald Trust pays high regard to organising pupil's learning experiences: curriculum design always responds to individual learner's needs and curriculum choices are regularly reviewed, with all stakeholders, so we can be confident we are providing an exceptional learning experience, every hour of every day.   Our highly personalised and flexible approach is framed by three key questions:
What is the specific intention of the chosen learning programme?

What is the best implementation route for the learning programme?

What is the impact of the learning programme?
Against these measures, our learners thrive in an environment of high expectation.
Further information on the Raedwald Trust Curriculum can be found here.
Westbridge Academy aims to deliver a broad, balanced and exciting curriculum to all of its learners. The curriculum offers an element of choice underpinned by a strong core consisting of English, Maths, Science, ICT, Art and Design, Humanities, RE and PHSE alongside sports and activities. The offer enables students to develop behaviours that support learning as well as addressing academic, social and emotional needs.
English Language and Literature
Mathematics
Science
Art and Design (Fine Art and Photography)
Photography
PSHE
ICT, Music and Media
PE, Sports and Activities
STEAM (Science, Technology, Engineering, Arts and Maths)
Humanities (History/Geography)RE
Functional Skills in ICT, Maths, English
AQA Unit Awards (incorporating Life Skills, Well- Being and Personal Enrichment)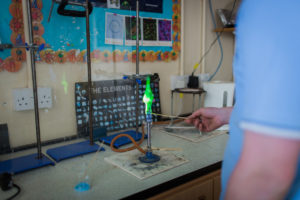 Most courses are offered at GCSE or equivalent level. Where appropriate, a small number of pupils will have access to Entry Level Certificates (ELC), or vocational based qualifications.
Additionally, a supportive transition programme prepares students for Post 16 choices. A counsellor and mentor is available to support pupils as need dictates.
Social, Moral, Spiritual and Cultural Education
Social, Moral, Spiritual and Cultural Education is an important part of our teaching and themes are woven through the curriculum. Sessions include moral and ethical decision and discussion, and visits to local religious centres and fund raising activities are included in this area.
Our aims for SMSC education are:
Education for Cultural Development:
challenge racism and value race equality
recognise and understand own cultural values
give respect of other's beliefs and values
willingness to participate in sporting, art and cultural activities
appreciate cultural diversity
understand British democratic systems and how history has shaped the present
Education for Moral Development:
desire to explore own and others views
respect own and others needs, interests and views
ability to make responsible and reasoned decisions and judgements
ability to think through own and others consequences of actions
willingness to express own views on ethical issues and personal values
Education for Spiritual Development:
respect for self and others
an increased ability to reflect and learn from reflection
an appreciation of beauty, love, truth, goodness, order and mystery
an understanding of feelings and emotions and their likely impact
a sense of empathy, concern and compassion
Education for Social Development:
resolve conflict and work towards inclusion and unity
work responsibly as a member of a group or team
relate well to other people's social skills and personal qualities
share views and opinions with others and work towards agreement
able to cope with a range of social contexts by appropriate and sensitive behaviours
Fundamental British Values
As part of the SMSC work, and through other subjects, we are required to teach our pupils about the four fundamental British Values which are:
Individual liberty
Rule of law
Democracy
Mutual Respect and the Tolerance of those with different Faiths and Beliefs
Although much of our teaching is implicit in our wider learning programmes, we are explicit in teaching these values through:
| | |
| --- | --- |
| Value | Learning Programme |
| Individual Liberty | AQA Unit Awards - British Values Unit 3 - Personal Liberty * GCSE Biology curriculum - vaccinations, individual responsibility, organ transplants * GCSE Mathematics curriculum - bias data, statistics, and correlations * GCSE Unit 2 Art & Design coursework focusing on individual identity, looking at the way artists have explored the idea of individual liberty * PWL/PSHE curriculum - applying for jobs and interviews * Silver Arts Award - individual project planning * GCSE English curriculum - tattoos/women in sport/women in combat * PSHE & RSE curriculum - emotional wellbeing (including same sex relatsinships, domestic violence and child exploitation) * PSHE curriculum - personal finance, personal safety * GCSE PE curriculum - health, fitness and well-being (topic 3) * ELSA |
| Rule of Law | GCSE English curriculum - prisons and the rule of law * GCSE Biology curriculum - drug testing, environment and ecology * AQA Unit Awards - British Values Unit 2 - The Rule of Law * PSHE curriculum - introduction to diversity, prejudice and discrimminsation, hate crime * PSHE curriculum - consumer rights * RSE - age of consent * GCSE Science enrichment - annual CSI day - Law in Action * STEAM curriculum - drone project - ethics |
| Democracy | Assemblies - mock elections during general election cycle, student surveys are sometimes completed * Student voice - anonymous student help box in PSHE room regularly reviewed and actioned by staff * Assemblies - local democratic figures such as the mayor have taken part in student assemblies * AQA Unit Awards - British Values Unit 1 - democracy |
| Mutual respect and tolerance of those with different faiths and beliefs | GCSE Unit 2 Art & Design coursework focusing on identity * AQA Unit Awards - British Values Unit 4 - tolerance * GCSE Biology curriculum - organ transplantation * Connecting classrooms from September 2013 to date - teacher exchange programme with partner school in Jordan * School Chaplain - Ipswich Community Church links * PSHE curriculum - introduction to diversity, prejudice and discrimination * PSHE curriculum - applying for jobs and careers * PSHE curriculum - RSE (including domestic violence) * Food Rituals - PSHE curriculum Healthy Lifestyle * Arts Award Silver - Art skills share * ELSA * MMC curriculum - Blythburgh visit |