As a supportive place to work, the Raedwald Trust community commits to collaborative convergence: together, we know we are more than the sum of our component parts.
We believe in our children and are committed to ensuring they access the very best of what is available.  We work hard, together, to provide the ordinary magic that can break through barriers.
We value our staff and offer:
a bespoke, high quality, professional development programme
access to a range of employee benefits to support health and wellbeing
flexible working patterns and part-time positions
an organisation which is values driven and has children at the centre of everything we do
the freedom to innovate practice and programmes benefitting children
As an equal opportunities employer, the Raedwald Trust is committed to the equal treatment of all current and prospective employees and does not condone discrimination on the basis of age, disability, sex, sexual orientation, pregnancy and maternity, race or ethnicity, religion or belief, gender identity, or marriage and civil partnership.
We aspire to have a diverse and inclusive workplace and strongly encourage suitably qualified applicants from a wide range of backgrounds to apply and join the Raedwald Trust.
Raedwald Trust is a Disability Confident Committed
As a Disability Confident Committed Employer, we have committed to:
ensure our recruitment process is inclusive and accessible
communicating and promoting vacancies
offering an interview to disabled people who meet the minimum criteria for the job
anticipating and providing reasonable adjustments as requires
supporting any existing employee who acquires a disability or long term health condition, enabling them to stay in work
at least one activity that will make a difference to disabled people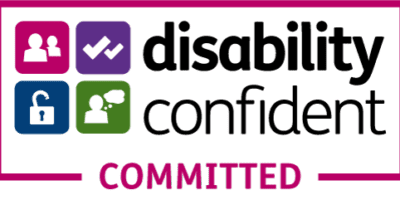 To request any of our Key Documents in an alternative format such as braille, larger print, audio or other format please email Laura Leeder on lleeder@raedwaldtrust.org.