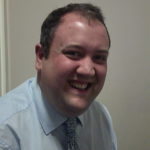 Mr Jamie Benson – Head Teacher
Read more
Jamie has worked in  a range of schools in Glasgow, London, Leeds, Bradford and Ipswich before joining Parkside Academy in January 2020. He has worked specifically with young people with SEN for the majority of his teaching career and is a qualified SENDCO and specialist assessor.
His work has included developing programmes to develop the literacy levels of young people in order for them to access the wider school curriculum, alternative curriculum pathways for those unable to access Level 1/Level 2 qualifications and also developing access to suitable vocational training. He also has extensive experience of working within the areas of child protection across a range of local authorities and is Designated Safeguarding Lead (DSL) trained.
Before relocating to Suffolk, Jamie worked in Leadership positions in an 'Outstanding' mainstream Academy in Bradford developing provision for young people with SEN and within the Safeguarding Team. Jamie is committed to ensuring that young people have access to the required resources and provision to ensure that their specific individual needs can be met.
Designated Safeguarding Lead (DSL) – Jamie Benson
Deputy Safeguarding Leads (DDSL) – Alicia Mann
Designated Teacher for Looked After Children – James Benson
Mental Health First Aider – Alicia Mann