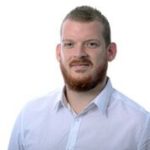 Mr Tom Baker – Head Teacher
Read more
Tom has been working in education for 10 years. He gained a BA (Hons) in Coaching and Sports Development from Manchester Metropolitan University in 2008. He then worked within the SEN department at Northgate High School in Ipswich for 5 years. Tom moved into alternate provisions in 2013 when he joined Alderwood PRU.
While at Alderwood Tom became a member of the school's SLT after taking on the role of 'Leader of Assessment' across the whole unit and a member of the Management Committee. Tom became Senior Teacher at St. Christopher's PRU and in January 2018 was integral in planning and overseeing the successful transition of the long term provision the 'Bridge', based previously at Alderwood, over to the St. Christopher's site. Tom was appointed Head of School in January 2019.
Tom is a keen sportsman. He plays golf and squash regularly and plays football for Copleston's Football Club. He also enjoys socialising with friends and family
Tom is passionate about ensuring the young people he works alongside have access to the best opportunities both in and out of the classroom. Enabling them to unlock, explore and develop their vast range of skills to take forward into their futures.
Designated Safeguarding Lead (DSL) – Tom Baker
Deputy Safeguarding Leads (DDSL) – Jayne Crapnell
Designated Teacher for Looked After Children – Tom Baker
Mental Health First Aiders –
Medical Needs in School Lead – Tom Baker & Lauren Quigley