Community Shelf – more Donations Needed
The 'Community Shelf' – a joint undertaking between the Raedwald Trust and Copleston High School in Ipswich – needs your help!
The Community Shelf initiative launched in April when it became apparent that the coronavirus crisis was leaving many families facing unseen hardship. The scheme supports children and their families with food, toiletries, good quality clothing and home essentials.
The East of England Co-op, The Rope Trust and Waitrose have all made donations, and around 600 packages have since been delivered straight to people's doorsteps over the course of the past 10 weeks.
The Community Shelf distribution centre is based at Copleston High School and is operational part time through the week. Donations are being sourced and collected from local shops, with staff from the Raedwald Trust and Copleston High School delivering the essential items to families.
The Community Shelf desperately needs more donations to keep this vital service going. If you feel you can help or donate, or would like to access help from the Community Shelf team, they can be contacted by emailing communityshelf@raedwaldtrust.org
Angela Ransby, chief executive of the Raedwald Trust and Andy Green, Copleston High School principal recently spoke to the Ipswich Star about the initiative. Click here to read the full article.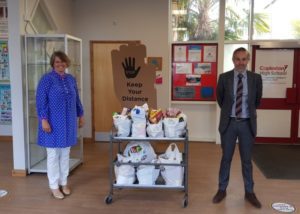 Angela Ransby, chief executive of the Raedwald Trust, and Andy Green, principal of Copleston High School. Picture: Copleston High School