2018-2019 News
Suffolk Through a Child's Eyes
As part of the Suffolk County Council's work to explore life for children in Suffolk, 'Suffolk Through a Child's Eyes', students from Parkside Academy took part in a 2 hour workshop with Signals Media to design animations to present their views of what life is like for them. Students were involved, creative and superb representatives for their school.
The video can be viewed here. and find the full report here https://healthysuffolk.org.uk/uploads/SF1863_-_APHR_2019_-_Suffolk_through_a_Childs_Eyes_LR.pdf[
Snape Maltings Visit 
During June and July Snape Maltings brought four producer musicians in to work with the students from Lindbergh and Westbridge.
At Westbridge the students worked on lyric writing, track making in the studio and playing piano live.They also had singing lessons and introductions to Sax playing amongst other things.
Some amazing music was generated and the students enjoyed it thoroughly.
You can hear some of the work in progress tracks here.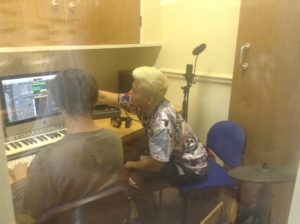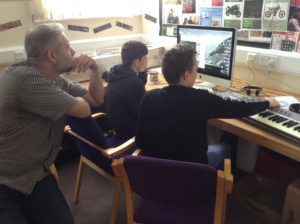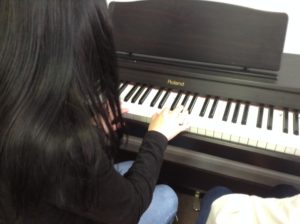 The Musicians plan to come back in the autumn term to take this work further. Watch this space…
Pizza at Parkside Academy 
In community time at Parkside last week, as an end of year celebration the 'Blue Dragon" community group ordered pizzas and reminisced on the successful academic year we have all had.
Big smiles all around!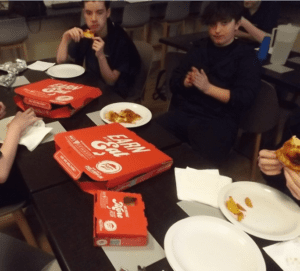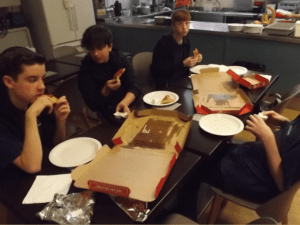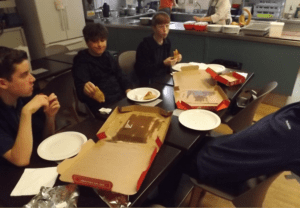 The Science of Party Poppers! 
In a recent Science workshop at Parkside Academy, we explored the 'Science of party poppers' to see if there is a relationship between the colour and the force needed to make them pop – it was a lot of fun. We concluded that the darker the colour the more force needed to pop!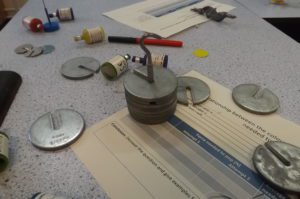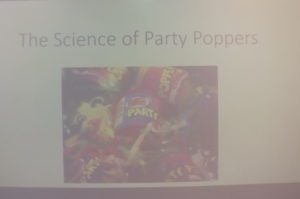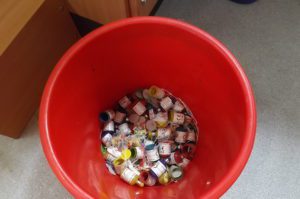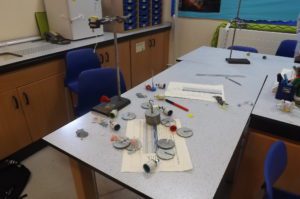 STEAM at Montgomery Road Campus 
Students from Montgomery Road Campus' STEAM group demonstrate their sound and light inventions made for the children's play area at the La Tour Cycle Cafe in Ipswich.
St Christopher's Academy visit to Pizza Express 
Last Tuesday pupils from St Christopher's Academy visited Pizza Express where they had the opportunity to make their own pizzas. When they arrived pupils washed their hands and then they were taught how to prepare the dough. The boys particularly enjoyed kneading the dough because it was so spongy. They loved it when the flour blew everywhere! They all got to make Margherita pizzas.  It was a great trip and the pupils got to take their pizzas home afterwards to enjoy! The boys made us so proud with their good choices and behaviour at the restaurant. Afterwards we wrote thank you letters to Pizza Express.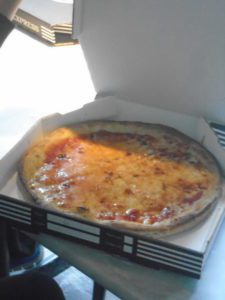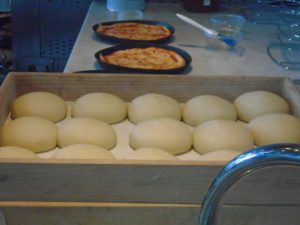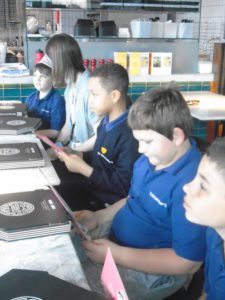 The Launch of Friends of Raedwald Trust (FORT)
A new community initiative has been launched by the Raedwald Trust to help make a real difference to the lives of vulnerable and disadvantaged young people in Suffolk. The Friends of Raedwald Trust was launched at an uplifting event, hosted at Quay Place in Ipswich on Wednesday, July 3, with over 30 local business representatives, dignitaries and individuals pledging to support young people by sharing their skills, resources and expertise.
The Raedwald Trust is a Multi-Academy Trust which provides alternative education for pupils of primary and secondary age with a range of behavioural, medical and special educational needs, as well as exclusion from mainstream school. To support their work with vulnerable young people, the Raedwald Trust is calling on individuals and businesses to come together and build a network of role models and mentors that will help to enhance the skills, confidence and employability for pupils across the Trust's eight sites in Ipswich and one site in Bury St Edmunds.
Friends of Raedwald Trust could help with mentoring a young person, offering work experience, providing equipment or consultancy to the Trust, or volunteering with a specific project such as gardening at one of the Trust's schools.
Angela Ransby, CEO of The Raedwald Trust, said: "We firmly believe that, by bringing the community together, we can provide young people with the skills, experiences and opportunities they need to counter the disadvantages they face. Thank you to everyone who joined us for the launch of our Friends of Raedwald Trust initiative, and to all the community representatives who have already pledged their support."
Roger Fern, Chairman of Raedwald Trust, said: "The issues of knife crime, county lines and mental health are everyone's responsibility and, by harnessing the power within our community, we believe we can make a real difference in young people's lives."
To find out more about the Friends of Raedwald Trust, or to sign up as a Friend, visit www.raedwaldtrust.org or call 01473 550 472.
Music Day at Lindbergh Campus
Great fun was had at Lindbergh Campus on Monday, celebrating Music Day with a fancy dress competition, music quizzes, karaoke as well as an afternoon of music production and lyric writing with Musicians from Snape.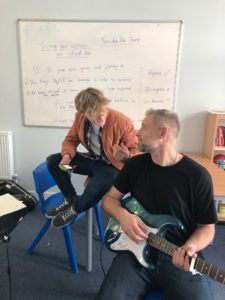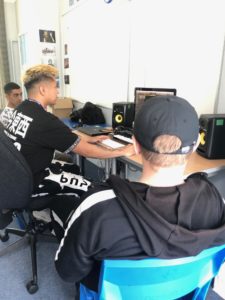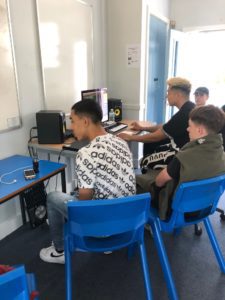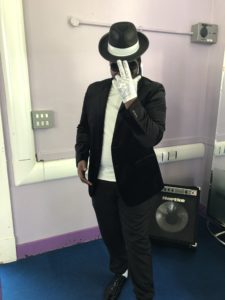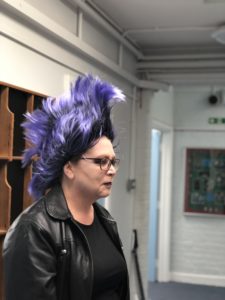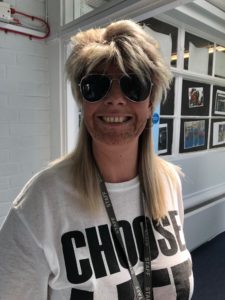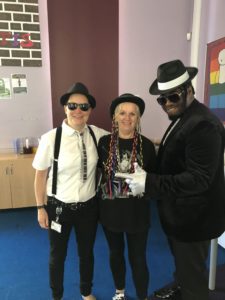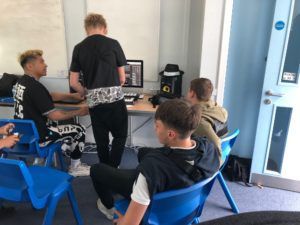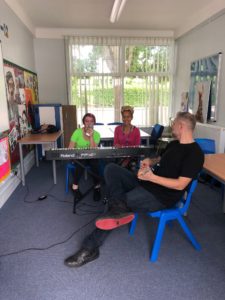 Brickmaker's Wood
Brandon joined the Skills4Life programme at Brickmaker's Wood during his time at Westbridge Academy.  Below is a video Brandon made documenting the positive outcomes he gained whilst attending the programme.  Well done Brandon!
Unicef UK's Rights Respecting Schools Award (RRSA)
We are very pleased to tell you that we have recently been awarded the first stage of Unicef UK's Rights Respecting Schools Award (RRSA), Bronze: Rights Committed at Westbridge Academy. This achievement shows that we are committed to promoting and realising children's rights and encouraging adults, children and young people to respect the rights of others in school.
We have set up a pupil-led steering group and, over the last term, we have been introducing all students to their rights as a young person. We have explored the right to not be discriminated against, discussed whether young people in other countries have access to the same rights and have raised money through the Unicef/Clarks ShoeShare scheme to help less unfortunate children to go to school.
Right Respecting Schools across the country have reported that that the Award has many positive impacts including improved relationships, wellbeing and self-esteem, leading to better attendance and improved learning. We are now going to embed a rights respecting focus into the curriculum and go for Silver!
If you would like to find out more or be part of the RRSA Steering Group please contact Emily at Westbridge on adminwestbridge@raedwaldtrust.org
Pizzas at Parkside!
Pupils at Parkside Academy recently made pizzas and added ingredients in the shape of plant & animal cells as part of their Science project.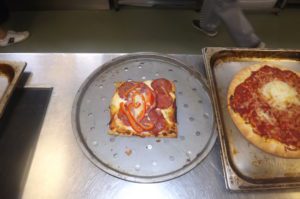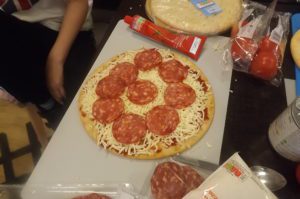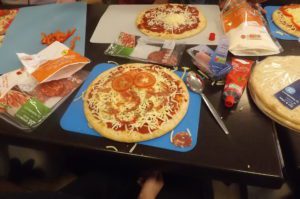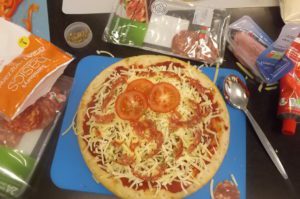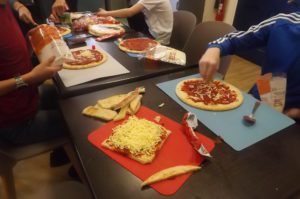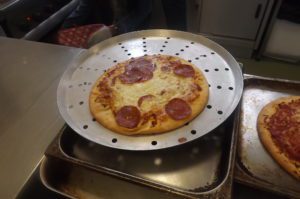 STEAM at Montgomery Road Campus
The STEAM group at Montgomery Road Campus try out their self-made windproof microphones at Alton Water. They really started listening to their environment and one commented on how relaxing it was.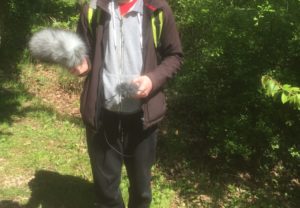 British Science Week at Westbridge Academy
To celebrate British Science Week this year, Westbridge had a few activities going on. Along with science demonstrations and activities in lessons, we had a whole school CSI Day.  It was amazing to see all the students really interested and engaged in the proceedings, taking it really seriously.
There was a crime science, forensics lab and interview rooms to interrogate suspects, the staff's acting skills were on point!
We can't wait until CSI Day next year and are interested in making it a Trust-wide event.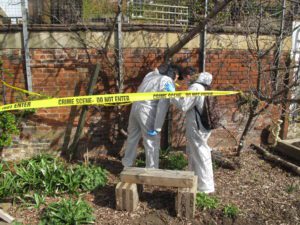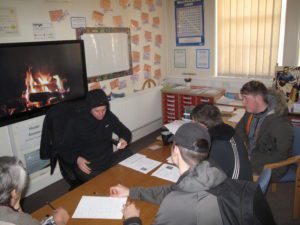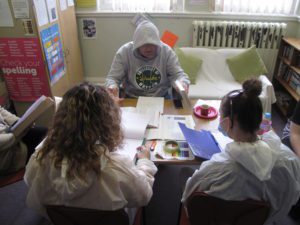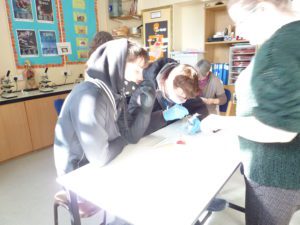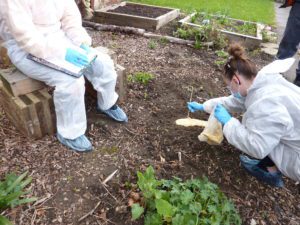 Year 7, 8 and 9 Spring Fayre and Exhibition at Parkside Academy
Last week Year 9 pupils at Parkside held a very successful Spring Fayre as part of their exhibition of project based learning and raised in the process an amazing £112.21 for Comic Relief.  During their project, they learned about probability in Maths and then used this knowledge to create games that were based on probability including: a tombola, hook a duck and higher or lower and pick a square.
Mrs Duke and Mrs Orbell were delighted with the Year 9's ability to run their stalls and organise the event.
In addition, Year 7 and 8 organised an exhibition of their work on 'How can we plan a journey that takes us out of our world?'.  Exhibits included work from Science and PBL where pupils have asked the question 'How could we colonise Mars?'. Pupils made biomes in Science and undertook aerodynamic experiments in PBL.