Careers Education
At the heart of our commitment to the young people that we serve is our desire to support them in building a positive and fulfilling future for themselves. Within the totality of our curriculum provision, we have built a rich and extensive programme of support to educate, guide and champion our young people in accessing the next stage of education and employment. ​
The Raedwald Trust Careers Delivery Guide 2020-2021
The Raedwald Trust Careers Programme of Delivery Key Stage 1-4 2020-2021
The careers provision at each centre is underpinned by the Gatsby Benchmarks which detail the expectations of individual schools and centres. Each site has a dedicated Careers Leader who co-ordinates and drives the programme for their school. It is the collective responsibility of all staff to contribute to the careers education of all pupils both explicitly and through their arm of the curriculum.
How the Raedwald Trust meets the Gatsby Benchmarks 2020-2021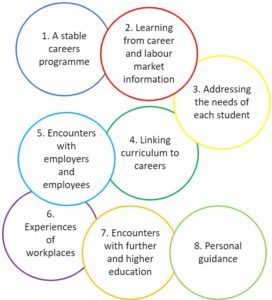 Information and advice on Careers
Students 
Teachers
These are useful resources which can be used to apply careers within lessons:
Parents
The websites listed below are specifically aimed at parents, carers and guardians and provide a wealth of useful information:
Employers
We strive to provide our students with encounters of the workplace and employers. If you would like to promote opportunities such as volunteer work, employability workshops or other opportunities for our students to get involved in, please contact Martin Weston, External Provision Lead at mweston@raedwaldtrust.org.