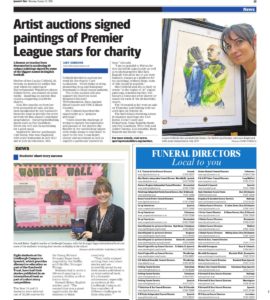 Short Story Success
Eight students at the Lindbergh Campus have had their stories published in an international book as part of a short story competition organised by Young Writers. The students, in Years 10 and 11, were selected out of 30,000 entries hoping to be featured in the 'Stranger Sagas' book, inspired by the popular Netflix sci-fi thriller, Stranger Things.
The competition encouraged students to explore their creativity and write a 100-word opening to a mystery, thriller, sci-fi or horror story. Entries were then shortlisted and published in regional books across the UK, with the top stories collated into an international book featuring a selection of short stories from young people around the world.
Hannah Baker, English teacher at the Lindbergh Campus, said: "The competition was a great opportunity for the students to think creatively. They really enjoyed writing their own short stories and are incredibly proud to see their names published in an international book. It's a fantastic achievement, especially as students at the Lindbergh Campus all face a number of different challenges in their education. Many of our students struggle with dyslexia, learning difficulties and behavioural issues, and some speak English as a second language, so it's fantastic that they have achieved recognition as published young writers."
The story made the local newspapers.
We are excited about a selection of programmes we have coming up as a result of funding we have been awarded as part of the Rate Card Event.  The programmes, purchased from All Together, will be used at Parkside Academy, Lindbergh Campus, Westbridge Academy and Montgomery Road Campus.
Ignite Your Genius – embed to existing PHSE to develop sense of self and sense of the world around us with clear links to existing curriculum and/or a community project.  To take place in October 2019, this programme will be for Years 10-11.
Genius Plus – ideal for students who have lost focus but are interested in reflecting on their strengths and challenges and want to explore their passion and purpose, with some goal setting to achieve identified goals.  Taking place in October 2019, this is an opportunity for Year 11 students to have an individual coaching session and to complete a personality profile to explore and help raise aspirations.
Enterprise Incubator – This programme involves groups of pupils designing a solution to a real day problem and then planning and printing a promotional t-shirt (which is then printed professionally).  To run in March or April 2020.
Mock Interview Project – Interview preparations, interview skills training and mock interviews for pupils in Years 10 and 11, taking place in April 2020.  This programme compliments the Genius Plus programme.